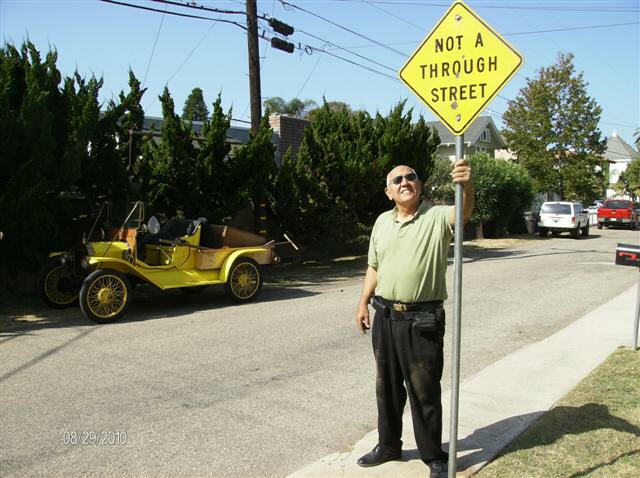 Art Hausen displays a sign that Ralph had bought at an old car swap meet.
This is a private street and we must do "ALL" improvements / maintenance. $$
As Ralph Ricks tells John in 2013...

"Coast Bank in Belmont Shore needed more parking space, so they bought the two houses on the side street behind the bank: 182 and 184 Santa Ana. The bank sold the houses and the 120x160 lot on the sw end of Old Pirate to a gentleman who moved them to OPL in 1966. Some time after that the bank foreclosed on the houses, and rented 5362 to de Pierre. Chuck Shaffner and his wife, Margie, a realtor, bought 5362 from the bank in 1973, and evicted de Pierre without objection. De Pierres were well known to the police. Chuck cleaned and painted the house throughout, and put it on the market. In spite of the exaggerated ads, many, many people looked at the house without buying, and the realtor evaluation was, "Who would want to live next to airport?" It was airport on two sides, no less. "

The Ricks thought a little airport was nifty, and made friends with the plane owners across the fence. One said, "You buy an airplane, and I'll teach you to fly." That's all it took. "Within 10 months we were learning to fly our own Cessna 150. For the next 15 years, it, and the Bellanca that replaced it, were closer to our front door than our car was."