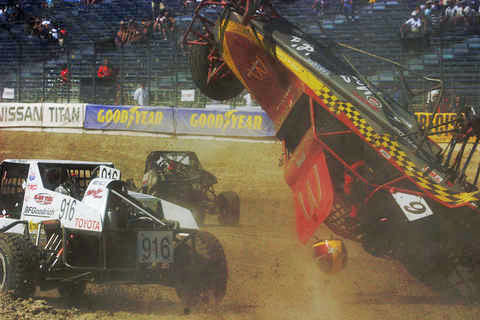 Bad crash for our "Big Joe" at the
Nissan Nationals Championship in the early part of Oct. 2005.
Joe is "OK" but still was busted up pretty good.

MOVIE: 680KB
This is what "off-road.com" had to say:

Super Buggy Nissan Nationals Championship

Eustaquio suffers big wreck at the Nissan Nationals

San Diego, California - The Super Buggy race was wild off the start line as cars positioned for the first lap, however Joe Eustaquio, driving the #6 SCORE Class 10 car crashed violently and suffered some serious injuries here in Chula Vista. It's believed that Eustaquio lost his helmet in the crash and he banged up his head in the car. ORC Staffer Brittany Sanchez reported Eustaquio's helmet flew from the buggy after the initial roll. It's believed Eustaquio rolled three times before coming to a rest.

Eustaquio had to be cut out from the car as it sat on the race track in front of the crowds. Chula Vista Fire Department personnel worked feverishly to extract the injured racer and they later told ORC staffers that they believed he would be alright.

The race was red flagged and cars were sent back to the start line where we are awaiting the race to restart.

There were a lot of photos, here are a few.
Click on image to ENLARGE


Let's all wish Joe a "Speedy" recovery



NEXT

Main INDEX


EZ way to find your way back...
just remember: www.runyard.org




Created 10/12/2005
Updated 12/05/2005