OLD INSTRUMENTS PAGE
I WOULD LIKE TO DEDICATE THIS PAGE TO THE OLD INSTRUMENTS USED IN THE YESTER YEARS OF OCTANE AND CETANE DETERMINATION. MAINLY KNOCK AMPLIFIERS, BOUNCING PINS & CETANE METERS. MANY OF WHICH ARE STILL HANGING AROUND OUR LAB. ( I DON'T THROW ANYTHING AWAY ANYMORE ). BUT ANYTHING COULD HAPPEN, LIKE A MAJOR HOUSE CLEANING AND THEY WOULD BE GONE FOREVER. I WOULD LIKE TO GIVE THESE ITEMS TO SOMEONE, PERHAPS A MUSEUM. SOME OF THESE ITEMS I HAVE NEVER SEEN ANYWHERE ELSE. IT WOULD BE MOST UNFORTUNATE IF THESE THINGS WERE LOST FOREVER.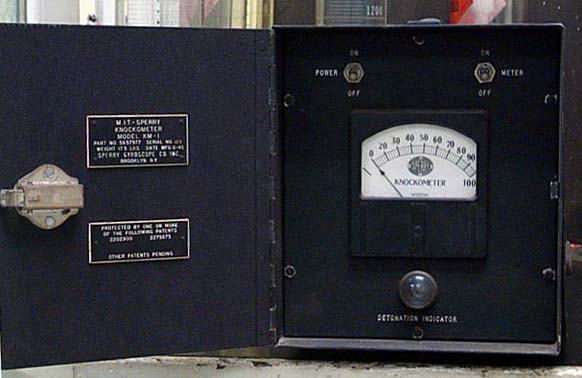 | | |
| --- | --- |
| | SPERRY "KNOCKOMETER" |
Old Bouncing Pin Amp. Dated 1945. In a nice metal box with carrying handle. Complete with latchable door. This is a vacuum tube model. I guess it was some what portable, it weighs about 20 lbs.
---
This is the famed Bouncing Pin.

I understand this was the source of a lot of cursing. I imagine the adjustments on this device were very time consuming to get just right. These knock sensors were last used about 1952, then Phillips introduced the D-1 Pickup.
| | |
| --- | --- |
| Close up of the Bouncing Pin. For some reason, I still have a whole drawer of B.P. parts. Don't ask me why. | |
| | |
| --- | --- |
| | This is a better picture of the engine I restored, and now used for open house displays. The kids love to crank on that handle! |
| | |
| --- | --- |
| | This is an early Cetane Engine using two Bouncing Pins. It has 38 written on the picture, I'm guessing that's 1938. |
This is it so far. I will be adding more shortly. Email me if you have some old pictures of octane equipment being used. Or have other content that would be interesting to the knock folks.
Octane Home Page

RUNYARD.ORG


You are #
to this Page

Page created August 13, 2000

Updated 02/27/2007